8 Ways to Develop Your Personal Style + ANOTHER Giveaway
Frank Sinatra once said, "You've either got or you haven't got style. If you've got it, you stand out a mile." I firmly disagree with the first half of the late Sinatra's statement. I think personal, tasteful style can be cultivated, and I'll give my story as an example.
As a young girl, I had NO style. Exhibit A:
Yea, I'm fairly certain that bucket hat was never OK. I credit catalogs like Delia's that were popular back in the day for inspiring me to get more creative with my dress and to actually put forth some effort into my appearance. When I became a Christian, I worried that I might have to forsake any interest in physical beauty and fashion in order to be pleasing to God. Fortunately wise counsel from older Christian women informed me that I could serve God and still pursue my interest in fashion as long as I did so within HIS standards.
The good news from my story is this: YOU can develop your personal style even if you feel you have none, and you can dress stylishly in a way that honors God, yourself and your bothers.
In the last post we discussed the basics every woman should have in her closet — now we'll discuss HOW you can wear those pieces in a way that's uniquely YOU.
1) Be confident.
None of the following tips will work if you don't feel comfortable and good in your clothes. If you think you look frumpy, chances are you'll end up looking frumpy even if your clothes look just fine. Confidence not only affects your attitude, it affects your posture and the way your clothes appear on you. Low confidence leads to poor posture (somewhere my mother is shaking her head and having a major "I told you so!" moment).
I'm not talking about developing the kind of confidence that leads you to don thigh-high slit dresses. I'm talking about believing that you ARE a beautiful woman who has the option to dress in a way that compliments your inner beauty.
2) Know your personality + values.
Style is more than just finding and buying pretty clothes. It's about expression of yourself through clothing. What you wear says a lot about who you are and what values are important to you, which is why I think dressing modestly is so important. You'll be able to express yourself more clearly if you're aware of your personality and what you're trying to say through your clothes.
3) Know your body.
No matter how hard I try, I can't get boyfriend jeans to work for me. I'm too short and too curvy to pull them off without looking silly. I have pear-shaped friends who express similar frustrations about skinny jeans. Learning what works for your body takes a lot of trial and error, but you can also learn so much from extensively Google-searching "what works for my (pear, curvy, athletic, etc) body shape".
4) Buy clothes that fit you, or get them tailored.
Fit is EVERYTHING with clothing. With the number of affordable retailers out there, there is no reason to wear baggy, ill-fitting jeans. There are just too many better options in the market. Some quick advice: get your clothes tailored when your budget allows, or even better…learn how to tailor yourself! It's so easy to do. In fact one of my favorite DIY blogs, Cotton and Curls, has a good tutorial on hemming jeans here.
5) Start by building outfits from ONE piece that excites you!
Fashion can seem overwhelming when you look at the final outcomes of bloggers with masterful style. Instead of throwing your hands up in the air, just take it one step at a time. The key to building a nice outfit is to start with one piece that excites you and then work around that piece.
In my most popular outfit post thus far, I started with a neutral colored maxi skirt.  I knew burgundy would match well with the pinkish undertones of the skirt, so I chose a burgundy turtleneck to make it seasonally appropriate. From there I chose my accessories (a burgundy purse for a monochromatic effect). How do I know what colors would work well together? I mostly rely on gut feeling, but I also use a bit of color theory…
6) Consider color theory.
Considering what colors work together can truly pull together your outfit with minimal effort. Real talk: I'm a lazy dresser for the most part. I rely mostly on the power of good color combinations. For those of you who slept through art class like moi, let's get reacquainted with our dear ol' friend: the color wheel.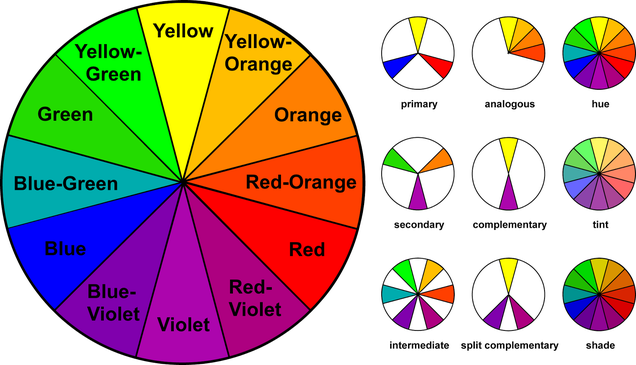 Here are the basics. First we have our primary colors: red, blue and yellow. When you mix primary colors, you get the secondary colors: orange, green and violet. When you mix a secondary with a primary, you get tertiary colors. Tints = colors mixed with white, and shades = colors mixed with black.
You can use that basic knowledge and the handy graphic above to find harmonious color pairings:
Monochromatic: A single hue (a pure color like red) in different tints, shades, saturation. (If you try this scheme with your clothes, keep it interesting by adding layers or mixing up different textures.)
Complementary colors:  Any two colors opposite each other on the wheel. For example, blue and orange, or red and green.
Triadic colors: Any three colors that are equally apart on the color wheel. For example, red, yellow and blues
Analogous colors: Any three colors next to each other on the wheel. For example, orange, yellow-orange, and yellow.
Also, wearing three colors or less is generally a good rule of thumb.
If all this seems overwhelming, just remember that neutrals like black, white, camel, and gray work with practically any other color. If you need some color theory inspiration, check out my Pinterest Board:
 Follow Liz @ Downtown Demure's board Color Theory on Pinterest.
7) Learn styling tricks. 
The key to truly memorable style, which I honestly cannot yet claim but respect, is attention to detail and the ability to take basics and make them your own. Speaking of, remember all of those basic pieces we talked about in the last post? Well you can get maximum usage out of them by learning how to apply various styling tricks (like cuffing the sleeves of your white button-down J. Crew style).
Styling tricks not only make your outfits look more interesting, they also increase the longevity of your closet! You don't have to shop all the time to develop great style, you just need to know how to work, layer and wear the clothing you already have!  If you need some quick styling ideas, I have an extensive board on Pinterest dedicated to that very topic:
 Follow Liz @ Downtown Demure's board Styling Tips & Tricks on Pinterest.  
(If you want me to cover styling tips and tricks in detail, let me know in the comments section! I might make that a new weekly segment.) 
8) Follow style blogs for inspiration.
Humility is important for cultivating your style too. Sometimes you just have to acknowledge that other women have a more developed sense of style, and there's SO much you can learn from them. My personal style blossomed when I made that realization. So use tools like Bloglovin' to keep up with style bloggers whom you admire or who has the kind of style you'd like to develop.IfyouthinkIcan be one of those bloggers for you, you can follow me here: 
 Here are some of my personal favorites:
As you're developing your sense of personal style, keep this in mind: It isn't about emulating your favorite fashion blogger or living beyond your means. It's about learning how to buy and style key pieces that truly illustrate your beautiful personality and your beautiful values. So have fun with it!
If you have additional tips to add, by all means share your knowledge with us in the comments below. 🙂
Oh, you're probably looking for some information about that giveaway, right? Well I have the great honor of partnering with Allison Ramsing, fellow blogger and owner of this lovely Etsy shop. One person will receive 5 of her beautiful handmade CELEBRATE cards. Awesome, right? Enter to win below!